What is Key Club?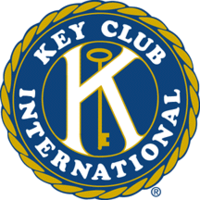 Key Club is a nationwide volunteer organization that is sponsored by the Kiwanis International Family of Service Leadership Programs (SLPs), specifically the Kiwanis Youth Programs (KYPs). They sponsor Key Clubs at a multitude of schools across the nation to get students interested in volunteer work in their local area and giving back to their community. 
There are levels of Key Club, such as an elementary, middle school, high school, and college level. The Key Club at RAHS states that they are, "Volunteering for a cause, not applause."
The name "Key Club" originates from their sponsor "Kiwanis", which both start with a "K," and that they believe, "Service is the key to a strong community." 
Key Club meets every other week on Mondays at 7:45am, while their Advisory Board (the people in charge of the club) meets every week. Everyone is welcome (grades 9-12)
During the meetings, they discuss about the upcoming volunteering opportunities and try to do a volunteer activity once a month, they strive to uplift the school and community.
On the 8th of November, the club went to Feed My Starving Children to volunteer, next month they plan on doing bell ringing outside of Rosedale Mall for the Salvation Army. 
"Later on, we do an event where we make blankets to give to an organization that gives them to parents who have children that have special needs. Further on, we will participate in an organization called 'Bridging', where we build furniture. It's an organization that helps people who are transitioning from homelessness to a home, or from incarceration to a home. It helps them get furniture for their new house," says Ms. Stahlman, the advisor for Key Club.
All of the volunteering is outside of school hours.
Stahlman states that, "Our goal is service learning, giving back to our community, and developing leadership skills through service learning."
The Key Club at RAHS mainly focuses on small projects throughout the year, but other Key Clubs across the country may focus on one large goal over the course of a year. 
Last year, they did a soup fundraiser for the Whole Foods Shelf and did activities that "brightened up the school," such as giving cards to teachers for teacher appreciation to help improve people's moods and build community.
"Our projects tend to be pretty open, we focus on 'what can we do to give back?'" said Stahlman.
Key Club currently has around 30 members, many of which are in AVID or NHS since those clubs need volunteer hours. 
To people who are considering joining Key Club, or are curious about it, Stahlman informs that, "Something good to know is that Key Club is fun, it's something fun to do with your friends and a way to get to know other people. It's also an opportunity to get involved with things outside of school and be apart of organizations that you can continue to be in into your college or even adult life."
"We have scholarships too, so it's a great resume builder, we also have money available to RAHS graduates each year who are apart of Key Club," Stahlman says. 
To join Key Club, go to C212 on Monday mornings and talk to Rachel Lowenthal, the president of the club. New members are placed on the Remind app in order to receive updates on upcoming meetings. 
There are no requirements to join the club, but there is a $15 overall fee (help can be given if needed) to keep the club running. The fee also helps with the scholarship fund towards RAHS graduates in Key Club, there is no extra cost for the volunteer work.
Leave a Comment
About the Contributor
Ilene Park, Story Editor/Staff Writer
I am an editor and writer for The Ville and this is my fourth year in Newspaper. I am interested in editorials, articles, and news features. A fun fact...