Sophomore Victoria Yang Brings Arts and Community Engagement Together with The Art and Civics Mashup
On May 30th at 6:00 PM, the League of Women's Voters program will be hosting an Arts and Civics mashup in the RAHS commons. The Arts and Civics Mashup is an arts, media, and performance showcase that will highlight the voices in our community, inspirations, and civil issues all under the theme, "My Vote, My Voice".
Victoria Yang, a sophomore here at RAHS, is in charge of this event. She said, "The main point of this exhibition is to get the youth at RAHS to be aware that they have a voice in the community, that we are part of the decisions made even at a young age."  
Victoria also said, "This whole process has taken several turns as it has been my personal huge project for the League of Women's Voters program. I've done many small projects and have experience planning events for activities such as student council but in my experience,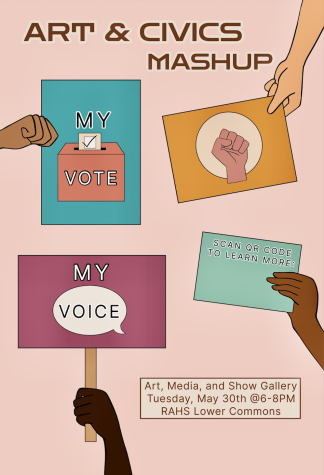 nothing has been as tedious as planning this event." 
The event will be a showcase with some live performances and some art pieces. Students, families, teachers, and others at the event will vote for some of their favorite pieces where the winners will receive prizes. 
As for what this event means to her, she said, "The Arts and Civics Mashup gives me a way in which I can support others in the community and share their perspectives. This event gives me the opportunity to increase awareness on issues that I value through a platform many are passionate about: Art. This sounds cliche but it's so true that "we are the future," and the only way to set a brighter future is to engage in what's around us, and I intend on spreading that message." 
Just in planning this event has inspired Victoria. We hope that you can stop by and see the masterpieces that Victoria put together, as well as the pieces in competition, so you can get inspired too.