Prom Shopping for All Budgets
With prom season right around the corner, it's time to start looking for the perfect attire! There are tons of options these days that can accommodate all your desires. Also, with tons of different ways to purchase clothing, you can buy prom attire within any budget range. Not to mention all the kinds of styles that are able to be expressed through different colors and textures. In this article we cover all the ways to get your perfect prom attire in order from lowest to highest budget:
1) Project Fairy Godmothers: No Cost (Project Fairy Godmothers)
Project Fairy Godmothers gives the opportunity to students in the Twin Cities and surrounding areas to get prom attire including dresses, shoes, and accessories from other donors. All of this is at no cost and all you have to do is register for their giveaway!
2) Rent the Runway: $$ (How Rent the Runway Works)
Rent the Runway allows one-time rentals! They include a free backup size in your order and your rentals come dry-cleaned and ready to wear. When your rental period is up, all you have to do is ship back the items with their prepaid shipping label.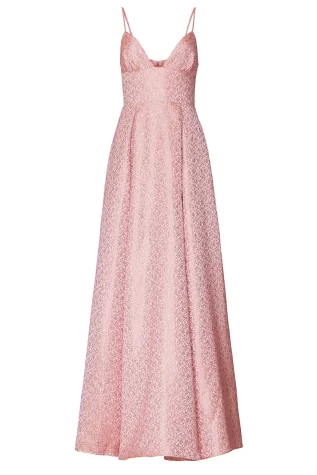 This gorgeous pink Ada gown by Sau Lee is only $98 to rent. If this is on the more expensive side for you there are plenty of other dresses under this amount on their website as well. Ada Gown by Sau Lee for $98 | Rent the Runway
3) Thrifting: $$-$$$ (Goodwill, Savers, Local thrift shops) 
People often donate their prom dresses to thrift stores so you're bound to find a barely worn dress for a reasonable price at any thrift shop. All you have to do is look in their formal wear! You can also get some accessories while you're there. many thrift stores have high heels available in different sizes and colors.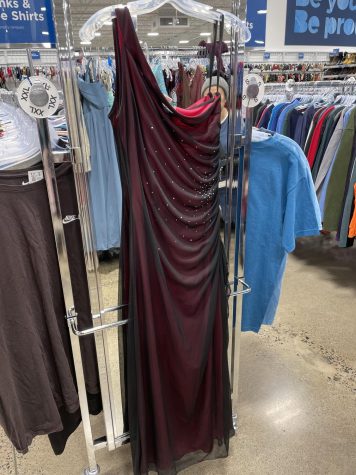 4) Online Retailers: $$-$$$ (Lulus, houseofcb, Prom dress – Etsy)
Listed above are just a few of the websites that carry prom/formal dresses! Online retail stores have tons of more options in size, color, and style. It's recommended you buy ahead of time though so you have plenty of time to exchange or return in case of sizing problems. Also, be sure to check reviews on the item in case the dress comes differently than how it is listed. These websites carry tons of accessories too!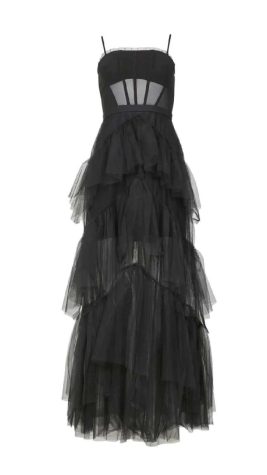 This beautiful ruffle dress from House of CB is $129. Lulu has other dresses for less on their website too! TIERED RUFFLE TULLE EVENING MAXI DRESS (styleofcb.us)
5) In-Store Shops: (can also be purchased online) $$-$$$ (Windsor, David's Bridal, Nordstrom, Macys)
The best thing about these in-store shops is that they are in the local area and you can easily return or exchange any of your items if needed. For example, there is a Macys located at Rosedall Mall and they already have their prom dresses out. Especially since it is prom season, these shops will be selling/promoting their formal dresses right now!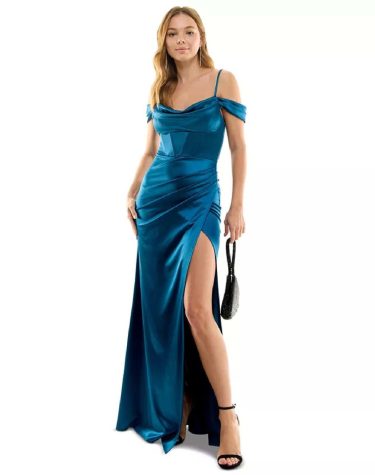 This stunning dress from Macy's in the color Lagoon is $109. B Darlin Juniors' Cowl-Neck High-Slit Boned-Bodice Gown & Reviews – Dresses – Juniors – Macy's (macys.com)
Reminder: Prom is for juniors and seniors only, and it will be on Saturday, May 13th. Go prom shopping soon to have enough time to find the perfect attire!