Students Gather at Central High School to Protest Killing of Amir Locke
A Tuesday at Central High School is usually similar to a Tuesday at any other urban Minnesota high school. However on this particular Tuesday, Central High School had hundreds, if not thousands, of student activists carrying megaphones, flags, and protest signs assembling on its front steps. An unknowing bystander might view the crowd as a chaotic group of high schoolers, only there to skip their afternoon classes, but the enormous crowd of students made up from more than a dozen Minnesota high schools was actually gathered for a much more important reason.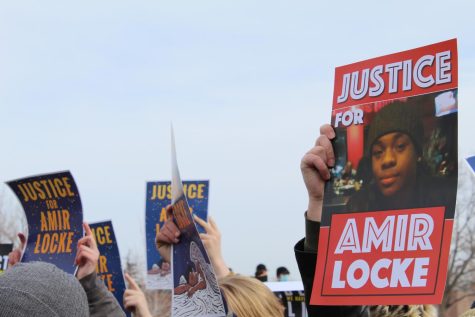 On the morning of Wednesday, February 2nd, Minneapolis police officers killed a sleeping black man named Amir Locke. Police and members of the SWAT team were executing a no-knock warrant in a homicide investigation. They burst through a doorway and encountered Mr. Locke sleeping on a couch in the Minneapolis apartment. Amir Locke startled awake and reached for his firearm in the confusion. Just nine seconds after entering the apartment, Officer Mark Hanneman shot Amir three times, killing him. He was 22 years old.
Students from Central High School's Black Student Union knew they couldn't remain silent. They partnered with MN Teen Activists, a statewide student-led organization working to eradicate injustices within Minnesota schools. Together they decided to host a school walkout to protest the unjust killing of yet another young black man. They arranged to have students meet outside Central High School at noon on February 8th, volunteering to miss the last half of their daily classes in order to stand up for what they believe. Not only did those who organized the event plan to meet, they invited any high schooler from across the state to join them. By the time Tuesday came, organizers found themselves leading hundreds of their peers in a peaceful march from Central High School to the Governor's Mansion, a few blocks away.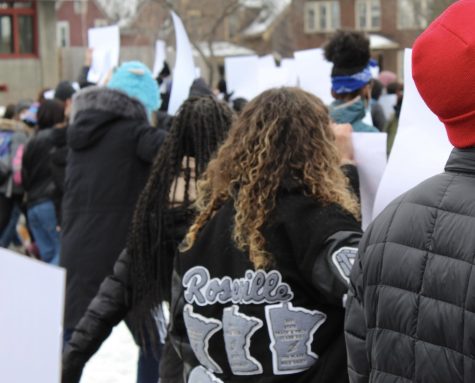 Unfortunately this was not a novel experience for many teenagers residing in the Twin Cities. Less than 10 months before Amir Locke's murder, a police officer in the Minneapolis suburb of Brooklyn Center shot and killed Daunte Wright, a 20-year-old black man at a traffic stop. Less than a year before that, a black man named George Floyd was killed on a city street after a Minneapolis police officer knelt on his neck for just shy of ten minutes, despite Floyd's cries for help, stating he couldn't breathe. Before that, in the summer of 2016, 32-year-old Philando Castile was shot and killed in Falcon Heights by a St. Anthony police officer. Each killing sparked its own round of protests, starting the chants and pleas students have come to know as a sign of the broken and unfair system. Police brutality toward black men has become all too familiar to teenagers in Minnesota.
The State's history with police violence encouraged the massive turnout of student activists on Tuesday. The young people of the Twin Cities are sick and tired of waiting for the next tragedy at the hands of local police. Instead of young black people backing down in fear, only able to wonder if themselves, their friends, or their brothers or sisters could become the next victim of those who are sworn to protect and serve, black Minnesota teens stepped up in protest to the unjust system, rallying their classmates of all ethnicities to join the cause in showing that police brutality and racial injustice will not be tolerated by future generations. This Tuesday those students brought their demands of justice for Amir and prevention of further killings straight to the doorstep of Governor Walz, in such a way that made it impossible to ignore.