Teacher Feature: Ms. Shava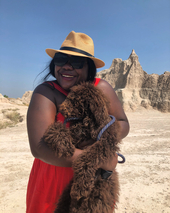 Professional:
Daughter. Mother. Teacher. Advisor. Chenayi Shava is an English teacher at Roseville Area High School. Shava can teach anyone from 9-12 grade but currently, she's teaching 9th grade sheltered English content, 12th grade individual reading and 12th grade practical reading communication. 
Shava said that when a student needs help, she will, "Find out what the issue is, ask them what they think is the best way to solve it, offer my help where I can, and come up with a plan."
Personal: 
Born and raised in Zimbabwe, Shava always knew she wanted to be a teacher. She's had a history of teachers in her family, and being a teacher appealed to her. She also talks about fresh minds and how she loves to be around them. She said, "I enjoy being in the midst of young people and fresh minds. And I always knew I was going to have children. So teaching is the right career for a mom to have."
Shava lives in her house with her two sons, her husband, and their year and a half old poodle, Zuma. 
Shava has had an interesting life so far. She has taught at two First Nation reserves in the Arctic. She also taught in Canada for some time before coming to Minnesota. 
Up until three months ago, Shava's mom was the most important person in her life. Sadly her mom passed away.
Shava said that her husband is the most important person in her life as of right now. She said, "Because without him, I cannot do the family thing. I cannot look after my kids, and I need him. He's one of the most important people in my life in addition to my two kids."
Fun Facts:
Some hobbies of Shava include singing and concerts, watching sports games, and reading. She particularly loves the genre of African writers. She said "I like African authors…. I grew up reading western readers and I never saw myself in books.. When I discovered African readers, I became hooked."
Shava's worst fear is snakes. She said, "I grew up in Zimbabwe, where the snakes are poisonous and they are dangerous. They are just as scared of us as we are of them, and they are always in survival mode. I will not look at snakes in a book or tv, so I stay away from it."
When asked, Shava said she hates green beans and can't live without a blender. She said that selfish, arrogant, and ignorant are three least likely words to describe her.