Girls Varsity Tennis Quickly on the Rise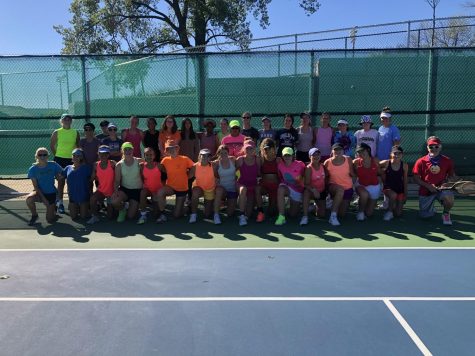 The RAHS' Varsity Girls Tennis are quickly improving with their continuous wins this fall season. The 14 players ranging in age from 8th to 12th grade are currently ranked 11th in Minnesota with a record of 13 wins and one loss. 
Led by three captains throughout the season, the team have earned a multitude of successes.
"I feel like as a team, we've improved more with our drive to win and do well this season. Last season, we sometimes struggled just to get enough wins to make it as a team. But I think this season we've really had the drive to do well," captain Lucy Sundberg (10) stated. 
Sundberg also noted the dedication and hard work from the team has significantly risen this year. 
This rapid improvement can be attributed to the six practices per week and some players practicing outside of school as well. 
"I usually practice around 10-15 hours depending on the week," Captain Marit Haugen (9) noted. The group's passion for the sport and team bonding has greatly developed their skills. "Most of the time I really enjoy tennis," Haugen said.  
However, another captain of the tennis team said they have also faced certain challenges due to the current pandemic.
"I think it's challenging getting back into the swing of things, especially after COVID and not being able to do things normally. Getting back into that routine was a little hard but I think we're getting the hang of it," Minseo Kim (11) said. 
Despite the challenges, many of the team members feel hopeful for the future of the season. 
First single's player Nikki Ridenour (12) is currently ranked second in Minnesota and is confident in becoming first. "I want to go to State. I'm going to win State," she claimed. 
As the season comes to an end in October with four official games left, the group's coach noted his faith in the team's abilities.
"I hope that we make a deep run into team Sections. I think we have the team to be able to do that," coach Bruce Hashimoto stated. 
Sections will begin in early October with six players from the team competing to win against various top schools in Minnesota.