This week the Prinicipal Dr. Jen Wilson announced via email that the 2023-2024 school year will have a new daily schedule without the thirty-minute period at the end of the day we know as "Raider Time". Many students have spoken online about their displeasure with the removal of Raider Time and how the replacement, "Rise Time", does not meet the needs that Raider Time could. 
Raider Time is a time after fifth hour on Mondays, Tuesdays, Thursdays, and Fridays where students can seek academic help, hold club meetings, or hang out with friends. Examples of clubs held during Raider Time are Art Club, Newspaper Club, GSA, Key Club, and DND Club.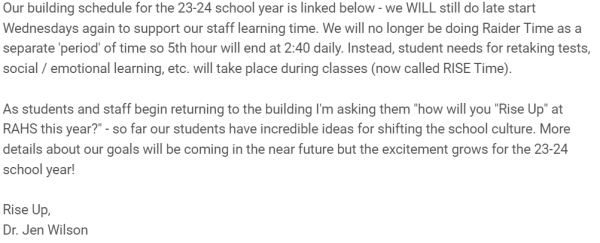 Rise Time is described in the RAHS Family Bulletin (See Here) by Principal Dr. Wilson as a time during class for student needs such as taking tests and social/emotional learning. It is not yet clear how Rise Time will work in the school day, but lunch and class times have become longer to accommodate the addition of Rise Time.
Many students have had negative reactions online to the introduction of Rise Time.  They feel upset that their feedback about Raider Time via Google form last year seems to have been overlooked to create a new schedule. 
PSEO students are upset about these changes as well. Because class times have changed to accommodate Rise Time, part-time PSEO students must reschedule their classes to follow the new schedule. 
Student Cortez Barbosa has created a petition on Change.org to continue having Raider Time in school, generating over 600 student signatures within 24 hours. Reading comments under the petition you'll see just how passionate students are to keep Raider Time. Some great comments from students are listed below. 








You can see the petition using this link: Bring Back Raider Time For Students' Academic Success
Students are unhappy with the removal of Raider Time from our schedules and would like to have their voices heard this summer before this school year begins. The removal of Raider Time was at best unnecessary. As a student who meets for clubs during Raider Time and has organized her PSEO classes to follow the Raider Time 2022-23 schedule, the lack of communication with students before removing this big part of the day is upsetting. I hope the school can listen to their students' voices and hear our wishes.