Boys and Girls Cross Country Make Strides Towards State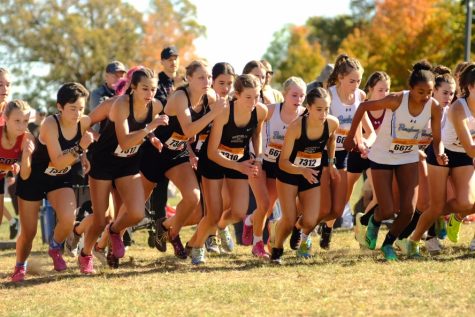 This fall, the girls and boys cross country teams are both succeeding. The girls have been led by Coach Mary Schifsky for the past 22 years, and the boys led by Coach Brian Bailey.
The boys team is looking for a three-peat at the State Meet at St. Olaf this November. The top two teams in the section move on, and the boys are currently seeded second to Moundsview with no other teams closely trailing.
Coach Bailey says, "The team is optimistic that we can return to state and improve on our eighth place finish from last season. [Our varsity is the] deepest group of runners I have had in my time as the Raiders coach."
The Varsity team is headed by Robert Mechura (10) and senior Bennet Harrison-Micheals. 
In regards to this season Mechura said, "I'm excited to race at faster courses like conference, sections, and state. The vibe [of the team] is fun and there is plenty of time to make friends before, during, and after runs."
Similar to the boys, the girls team, is looking forward to battling for a spot at the state meet at sections. Moundsview is currently leading the girls section, so they will be fighting for the second spot at State with Champlain Park, who they are currently tied with for second.
Coach Schifsky says, "We will continue to work at fine tuning our team to be ready for the Sections meet." 
Senior Captain, Sara Grosse says, "I am very excited to see how our team does the rest of this year, especially at conference and sections. The whole team is really close and we always have lots of fun" 
To prepare for these big meets, the teams do different things. 
The girls team writes goals together to focus on what they want to accomplish for each race, then take a short run at an easy pace. After that, they do four strides and some pre-race warm ups in spikes. Finally, a carbo-load is hosted by a member of the teams family, where the girls eat good food, bond, and prepare for the race the next day. 
The boys do a short run at a leisurely pace, and then do a few stride to get their legs moving fast. After that, they generally also have a carbo load where they eat carbs, have fun, and get ready for the meet.