What will hybrid look like at RAHS?
Timing of move to hybrid in questions with increase COVID numbers throughout state
The Roseville Area School District was hoping to try hybrid learning for secondary schools in second trimester, but plans have been put on hold while Roseville, along with most of the midwest deal with record breaking COVID cases.  
When the district decides to return to hybrid there will once again be changes to the schedule.  There will be the same A-B-async-A-B schedule, with the exception that on Mondays and Tuesdays the A Cohort is in school, Wednesdays are a clean-up day, and Thursdays and Fridays the B Cohort is in school. Cohorts are going to be assigned by alphabetical order, and your decision to go to either hybrid or distance learning, with the full distance learning be C Cohort, and if you choose to start second trimester in Hybrid learning switch to Distance learning, but you can't choose to start second trimester in Distance learning and mid trimester want to switch to Hybrid learning, you will have to wait until the start of third trimester to switch.
"If there is a school related COVID outbreak during Hybrid learning, their might be a select few students and teachers who quarantine, or the whole school may have to revert back to full Distance learning depending on the size of said outbreak," said Jacob Vondelinde, a leader in Teaching and Learning at the Roseville school district. When asked about the possibility of full in-person school third trimester, Vondelinde said, "hopefully we do return to full in person school."
The layout for the hybrid in school days will have 1st and 3rd hours before lunch, eating lunch most likely in your 3rd hour room then a study hall that will still be in your 3rd hour room, then you 5th hour on A days. On B days, it is the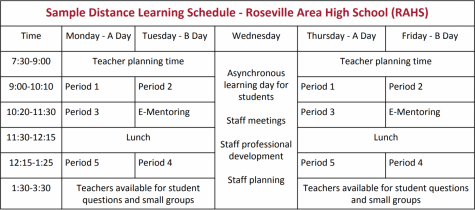 same schedule layout as A days, except you start off with 2nd hour, end with 4th hour, and instead of 3rd hour is an hour alternating between your other classes, and this is the class you will have lunch and study hall with that day.
Steve McDowell, a parent in the Roseville community said, "Hybrid learning will help people feel more pre-COVID normal,".
Heather Osagiede, a member of the North Branch community, said "I'm real happy that my school district is able to run safely,".
In other parts of the state, some school districts have started school in an in-person hybrid learning, or a hybrid and distance learning mix. Some information that has been noticed is that the more rural a school district is, the more likely they were to be doing full in-person or in-person hybrid school, minus a few rare exceptions. This was also affected by who runs the districts and the amount of students that go to these schools.