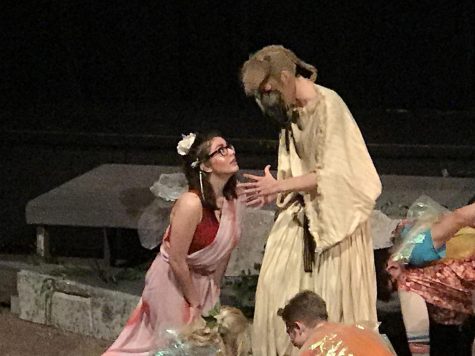 No matter how long you've been at Roseville, the theatre program can seem very foreign. Here is everything you need to know.
What the Future Holds
After a successful performances of Shakespeare's A Midsummer Night's Dream were held May 9th-12th, the RAHS Drama department still has some unfinished business.
RAHS Drama has a lot planned for the future. Here's what you can look forward to according to Kaitlen Osburn, "More diversity in what sort of shows we produce. I'd like to introduce shows that you've never heard of before so students can experience the wide range of theater that is out there. RAHS is in the process of building a second auditorium, and that will bring with it a lot of changes in how we operate."
The Fall Musical and what the season will look like next year will be announced at the Drama Awards on May 21st.
Participation
To perform in a show you must audition. Auditioning can be a very daunting task, but don't let it chase you away. Drama director, Osburn says "Once you get a couple auditions under your belt, it becomes a lot less scary. Practice auditioning in front of your friends and family." Osburn also suggests taking Erik Lane's Drama Workshop 1 Class if you are unsure about what theatre is about.
If auditioning is still too intimidating or you simply don't have an interest in performing, you could do crew. Osburn says there are many jobs to fill, "We always need crew members to build the sets, collect and make props, and help with costumes. When we get close to performance weeks, we have run crew backstage and there are students who help design sound and lights and run the corresponding boards. We also have opportunities for students to direct and playwright, and we have an excellent improv troupe.[ …]This year, I've struggled to find students to draw or design the artwork for each show. If you want to make the poster design for our shows next year, let me know!"
Information can be found at:
http://isd623.org/rahsdrama
Or specific questions can be answered through Kaitlen Osburn's email,
[email protected]