Brian Koland; In Memory
Brian Koland was a cherished member of the Roseville community. Koland, on the weekend of the 9th of October, died by suicide. As an employee of the Roseville Area School District for nearly 30 years, he specifically served as principal to Edgerton Elementary school, and Emmet D. Williams elementary school. He touched the lives and hearts of families throughout the district. 
A public memorial was hosted in Brian Koland's memory on Monday, the 18th of October. The event occurred in a Central Park public pavilion near sundown. Cars filled nearby parking lots and lined roads for attendance of the event.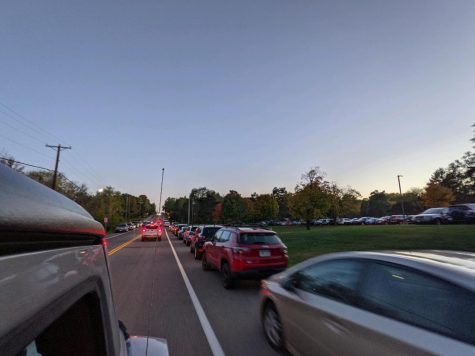 The memorial held over 250 attendees. This included various members of the Roseville School district. Including Curtis Johnson, a member of the Roseville School board and Glenn L. Bloomstorm, a retired army chaplain and now suicide prevention speaker.
Starting at sundown, a short service began. Attendees sang "Amazing Grace", lit candles, and heard a personal letter from the Koland family.
Glenn L. Bloomstorm, spoke about the causes and effects of suicide. "We do not want to remember Brian in the way he passed away, nor do we want to forget it," Bloomstorm said.
Many attendees gave flowers, cards, and money to the Koland family. Some attendees wrote personable notes to Brian Koland on a communal board, others posted thoughts to an online discussion board. 
Virtually, and communally, people continued to share their memories.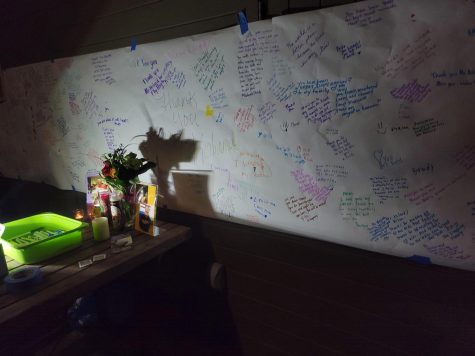 Cheryl Rushenburg, a recurring volunteer at Emmet D. Williams, and a previous substitute teacher in Saint Paul shared her thoughts. "Everytime I entered EDW, I found the most welcoming and happiest school I ever experienced.  Mr. Koland, not only knew every child's name, he never failed to even greet me in the lunchroom or give a wave of recognition upon his pop-ins to the classroom."
"No matter if it was a harsh Minnesota day, he was outside a long time greeting children in the morning and saying good-bye in the afternoon at the buses, all with his wonderful smile and sometimes a shovel." Rushenbrug said.
Josie Dingee, a 10th grader at Roseville Area High School (RAHS) also shares her thoughts. "I think we least for myself, and the kids my age, he was really active and involved in [the students]," Dingee says. "I used to eat lunch every once in a while in [Koland's] office, and he was always real interested in us, and what he could do to help," Dingee had Koland during all of his four years at Emmet D. Williams.
"[I] remember when he always did the crazy things for read-a-thon (A yearly event that incentivize students to read) like the dunk tank, or kissing a alligator, or eating the mealworms and the Elsa lip-sync battle. It was just so funny and made my day better," states Connor Woulfe, a current sixth grader at Emmet D. Williams.
At Emmet D. Willams, multiple students made posters and signs showing their appreciation for Koland in his passing.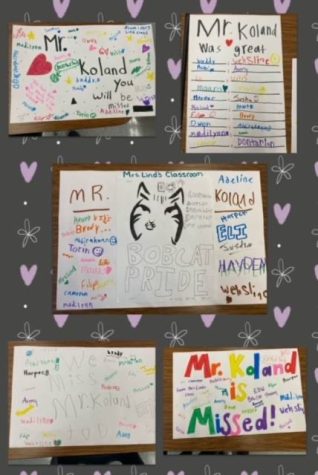 Laura Jennings, a senior at RAHS, still feels she is affected by Koland today. "He was just very supportive of… everyone," said Jennins, "including me, the 4th graders, 5th graders, 6th graders, 3rd graders, kindergarteners, the staff, everyone at Emmet, and hopefully at Edgerton, Mr. Koland was so supportive and caring of anyone. . . No one can replace him."